Get Trained, Get a Job—Guaranteed
100%

Job placement for FATI grads
---
Become a Financial Advisor—fast
Receive a guaranteed job offer when you complete the Financial Advisor Training Institute (FATI) Certification program and pass your required exams.
FATI is the only organization of its kind in the nation, providing accelerated, industry-best training that helps driven people like you pursue a noble career helping others maximize the value of their investments.
---
Meet a rapidly growing need
FATI exists to quickly equip you with the specialized knowledge and skills you need to become the trusted Financial Advisor people want.

–Terry Lindner, Founder and CEO of FATI
85%

of people would prefer a human Financial Advisor to a "robo-advisor."

43%

of retail Financial Advisors are over the age of 55.

1/3

of retail Financial Advisors plan to retire in the next decade.

200,000

projected shortfall of retail Financial Advisors by 2022.
Sources: MarketWatch, Moss Adams
---
Prepare to meet and exceed industry standards
FATI's certification curriculum is built to help you pass the exams required to become a Financial Advisor:
Securities Industry Essentials® (SIE)® Exams

Assesses your knowledge of securities products and their risks, how securities markets are structured, regulatory agencies, and prohibited practices.

Series 7

Ensures that you understand investment risk, taxation, equity and debt instruments, packaged securities, options, and retirement plans.

Series 66

Comprehensive exam covering economic factors, investment vehicle characteristics, client/customer investment recommendation strategies, and investment laws/regulations.

State-specific life and health insurance license exam

While each state's requirements vary, these exams typically evaluate your understanding of insurance types, policy riders, provisions, options, exclusions, plan modifications, underwriting policies, and more.

Variable Contracts (in some states)

Some states require Financial Advisors to pass this exam, which measures your knowledge of and ability to sell mutual funds and other variable annuities.
Daily personalized insights from financial experts
At FATI, our 100% online program structure is pretty straightforward: You'll have four hours of instruction time each day, five days a week, for 14 weeks.
Each day, you'll benefit from the expert insights shared by our experienced instructors, as well as the perspectives from your fellow classmates who are eagerly pursuing the same goals as you.
---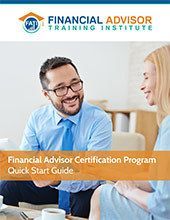 Quick Start Guide
Get more details about how FATI works, what you'll learn, and more.
---
A better way to build up a noble career
FATI is a 501(c)(3) non-profit public charity. Our mission is to prepare you to provide informed and ethical advice that helps people build their wealth better.
As a growing number of current Financial Advisors approach retirement age, FATI is committed to training a new generation of driven, knowledgeable advisors who can help their clients and the economy thrive. Learn more about FATI's mission and leadership.
---
Get a great-paying job—guaranteed
How many colleges and bootcamps can guarantee you a job offer when you finish their program? FATI can, thanks to the thoroughness of our curriculum and our extensive industry connections.
100%

of FATI graduates receive a job offer upon completing the program and passing required exams.

$89,330

2020 median annual compensation nationwide for personal Financial Advisors.
---
Get Started Today!
Quick and easy. Get started in minutes!